Your Electrician For Life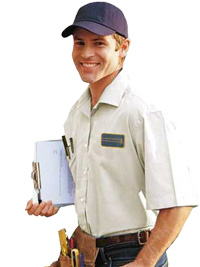 Lifetime Guarantee on All Work
We stand behind our work 100%.
Up-Front Pricing -- No Surprises
You approve the price before the work begins.
Neat, Clean, and Uniformed
We take pride in our professional and courteous service.
Peace of Mind
We're fully Licensed, Bonded, and Insured.
Licenses: #C10 685970 & #C10 406002.
On Time
Your technician will arrive within the two-hour window of your appointment. We always have a live person in our office who stays in communication with you.
See What Our Clients Are Saying

From my initial call to the end of the job, everyone was friendly, intelligent, & willing to explain stuff. Prices were the best from any electrician I've used in past. MY PRIOR ELECTRICIAN WAS GOING TO CHARGE ME MUCH MORE THAN THIS ONE. Robert & Julio were such fast and intelligent technicians that I ended up adding more work to the originally requested, minimal work! All done in one day! -- Stephanie Osbourne

Click here for more customer reviews.
Here's 3 of our most recent blog posts
New home construction is an exciting adventure, but it can be a little intimidating. A contractor will take care of most of the technical aspects of the home building, but you will likely have your own ideas about choosing the right electrician for the job. After all, this is a huge investment for you and your family's safety relies on you picking an electrician in Los Angeles who has the experience necessary to complete the job the right way and in a timely manner.
Experience
You want an electrician who has plenty of training, knowledge and experience. Companies that have been in business for years or even decades are clearly doing something right and make good candidates. H Electric has been in business for more than 20 years and prides themselves on their work and offer a guarantee on anything they do.
Licensed
It is imperative you make sure any company you are considering for the job is licensed to work in California. The company will need to be bonded and insured as well to protect your interests. It is imperative you do your research before hiring an electrician. Los Angeles home and business owners should always check the license to be sure it is active. This is done with a simple search of a California database.
Reputation
Ask friends, co-workers or neighbors about a company before you do business with them. It is also a good idea to check the company's rating with the Better Business Bureau. Customers who have had bad dealings with a company will often file a complaint with the BBB. Check the history and see how well the company has done.
Whether you are having a new home built or are planning a remodeling project, you will want to take the time to do your homework before hiring an electrician.
It is not uncommon for a home to trip a breaker now and again. However, if your breaker trips every time you run the toaster and microwave at the same time, you have an issue. A Los Angeles electrician can certainly help you determine what the problem is through some electrical troubleshooting. If you are experiencing a light that only works intermittently for no obvious reason, this is another sign you should get somebody who you can rely on, like H Electric, to check out the issue before it becomes a major problem.
Tripping Breakers
It is extremely important a breaker that frequently trips or shuts off is examined by a professional. House fires caused by electrical issues are all too common. A breaker that is weak must be replaced. Only a trained professional should tackle such a big, technical job. It is certainly a major inconvenience for a person to try and remember to unplug this before using that or being unable to warm up your lunch while toasting bread. You do not have to live with it. Simply call an electrician.
Lights Do Not Turn On
If you are encountering a problem with light bulbs blowing out when you flip a switch or the light not working at all, you likely have a problem with the wiring. This is actually a pretty common issue with older houses. An electrician in Los Angeles can certainly check it out and determine what the cause is. It could be a bad light fixture, a bad wire, or the fixture was not wired correctly to begin with. Because you are dealing with a potentially dangerous situation, it is strongly recommended you let a professional handle the job.
In either of these situations, you are dealing with a problem that could become extremely serious. Do not put it off or wait for it to become a bigger problem, like a fire, call an electrician today and get expert advice.
If you live on a tight budget, one of the worst things you can face is a higher than expected electric or other utility bill. If this occurs, you may wonder why this happens. In some cases, you may want to talk to an electrician in Los Angeles, such as from H Electric. However, much of the time, the large bill can be attributed to one of five common issues. Learn more about these issues and perhaps you can avoid the surprise of a high electric bill.
      

Prices Rise – There's not much you can do about this but to be informed. Sometimes prices will go up. Most companies will give you 30 days' notice before any price increase, usually by letter or email.

      

Estimated Readings – When companies use estimated readings, every few months they do a "real reading" and in this case, you may have to play catch up, if you used more energy than was expected.

       

Higher Energy Consumption – Sometimes you will use more energy than other times. If you just started working at home, or have otherwise spent more time home, if you have added a new household member, if the weather is unexpectedly hot or cold or if you have a faulty appliance, you may use more energy than before.
 

     

Billing Mistakes – Sometimes it happens—even large companies make mistakes. Check your bill carefully to make certain you are only billed for the amount of electricity you used.
 

     

Faulty Meter – On occasion, electric meters are at fault. Try keeping a log of daily readings and see if you can find inconsistencies. This may be the fault of the meter. In these cases, you may be eligible for a discount or refund.
No matter whether your high electric bill is your fault or not, there may be ways that an electrician Los Angeles can help you avoid these problems in the future. Give H Electric a call today and see what we can do for you.
H Electric
2722 S. Robertson Blvd., Los Angeles 90034
(310) 943-9590
electricianlosangeles.com
hugo@electricianlosangeles.com
8-5 Monday-Friday
Licensed, Bonded, and Insured
Licenses: #C10 685970 & #C10 406002
Reishuka, Inc. DBA: H Electric